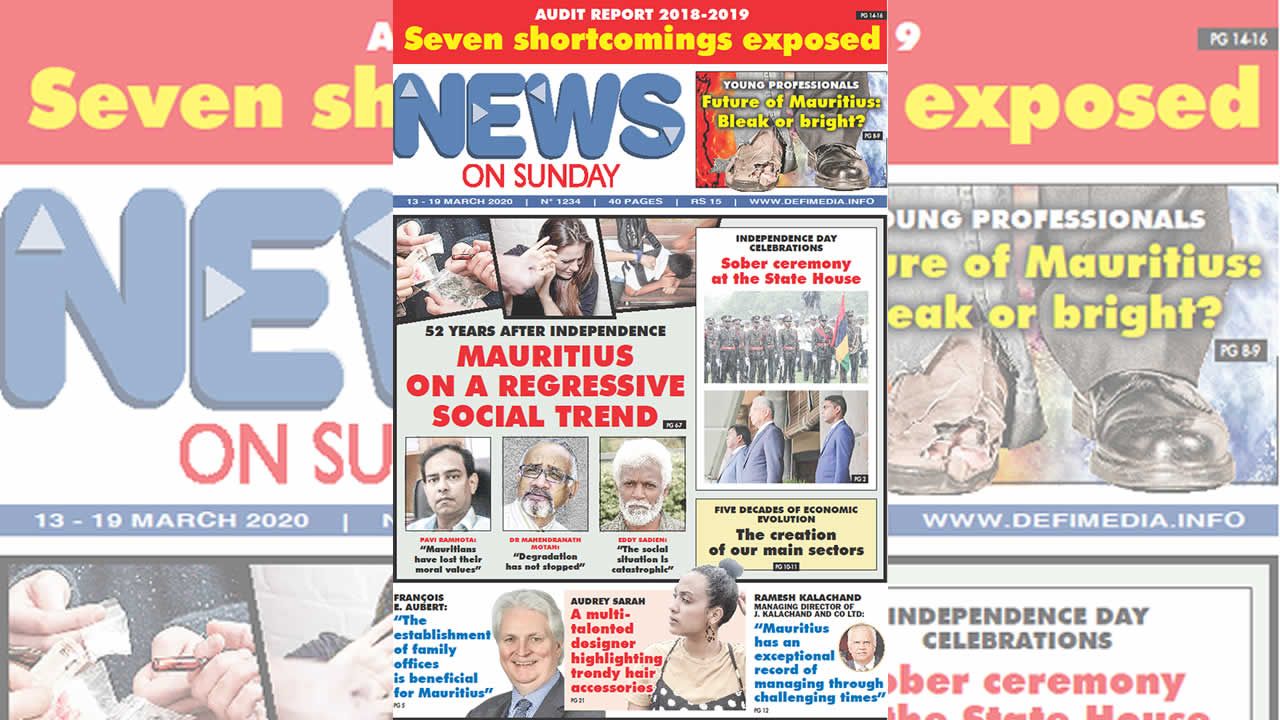 52 years after independence
Mauritius on a regressive social trend
From being a colonised country to being an independent one, Mauritius has come a long way. Despite several upheavals, the country has always fought back and has prospered across many levels. However, despite impressive social progress made over the years, Mauritius is now facing serious social issues such as proliferation of drugs, violence, and degradation of moral values, among a host of others. After 52 years of Independence, is our social trend evolving or regressing? Stakeholders share their views.
Independence Day Celebrations
Sober ceremony at the State House
This year's 52nd anniversary of Independence has been marked by the bad weather. Indeed the official programme in the context of 2020 National Day celebrations, comprising the traditional flag hoisting ceremony at the Champ de Mars, in Port Louis, followed by a cultural show, had been cancelled due to deterioration of the weather in the island. However the symbolical flag hoisting ceremony took place at the State House, Réduit, on Thursday 12th March at noon in the presence of the Prime Minister Pravind Jugnauth, the President of the Republic Prithvirajsing Roopun, the Minister of Art and Cultural Heritage Avinash Teeluck among other Ministers, public officials and personalities. The sober ceremony was also marked by the heavy rainfall. This year's theme in line with the National Celebrations is 'Lanatir, Nou lavenir' (Nature, Our Future). This theme has been chosen in order to encourage each Mauritian to protect the environment and preserve our natural heritage in order to ensure the future of our youth
Five decades of economic evolution
The creation of our main sectors
Mauritius has undergone a phenomenal socioeconomic transformation during the five decades following Independence. Its economic success, or the Mauritian miracle as it is often called, has been many times praised in numerous international reports. From sugar cane to Fintech or Robotics, Mauritius has been able to successfully diversify its economy over the past 50 years. News on Sunday highlights the main milestones.
Audit Report 2018-2019
Seven shortcomings exposed
The National Audit Office's Report (NAO) for financial year 2018-19 is very damning. It underscored not less than seven shortcomings and made six recommendations to address them.
Young Professionals
Future of Mauritius: Bleak or bright?
Mauritius has accomplished a lot but it still has a long pathway to tread. Despite the challenges, Mauritius, as a small island, has been able to weather the storms. Now what's next? The young professionals are divided in their opinions. While some are optimistic for a better future, others are still pessimistic, especially about the global economy.
François E. Aubert: "The establishment of family offices is beneficial for Mauritius"
François E. Aubert is a management consultant, business coach, speaker, trainer and lecturer. His extensive knowledge of the private banking and family office world comes from 30 years of dealing with leaders, entrepreneurs, families and companies in over 50 countries. He was recently in Mauritius to deliver, for the first time, family office training. The renowned international expert in family offices shared in an interview with News on Sunday the purpose of a family office, the opportunities for family officers in Mauritius and more.
Audrey Sarah
A multi-talented designer highlighting trendy hair accessories
Mauritian women never cease to show that they have the courage to chase their dreams, live with their passions and stand up as strong independent beings. Audrey Sarah, mother of two and dedicated to her inmate skills for design and arts, dared to follow her heart. She launched her business in hair accessories for girls and women. She shares with us her pathway.
Ramesh Kalachand
Managing Director of J. Kalachand and Co Ltd: "Mauritius has an exceptional record of managing through challenging times"
Household name in the sales home appliances and furniture, J. Kalachand and Co. Limited services the Mauritian market through 25 outlets and more than 680 staff. In this interview, the Managing Director provides his analysis of the transformation of the economy over the past 52 years, a journey that J. Kalachand started since December 1968.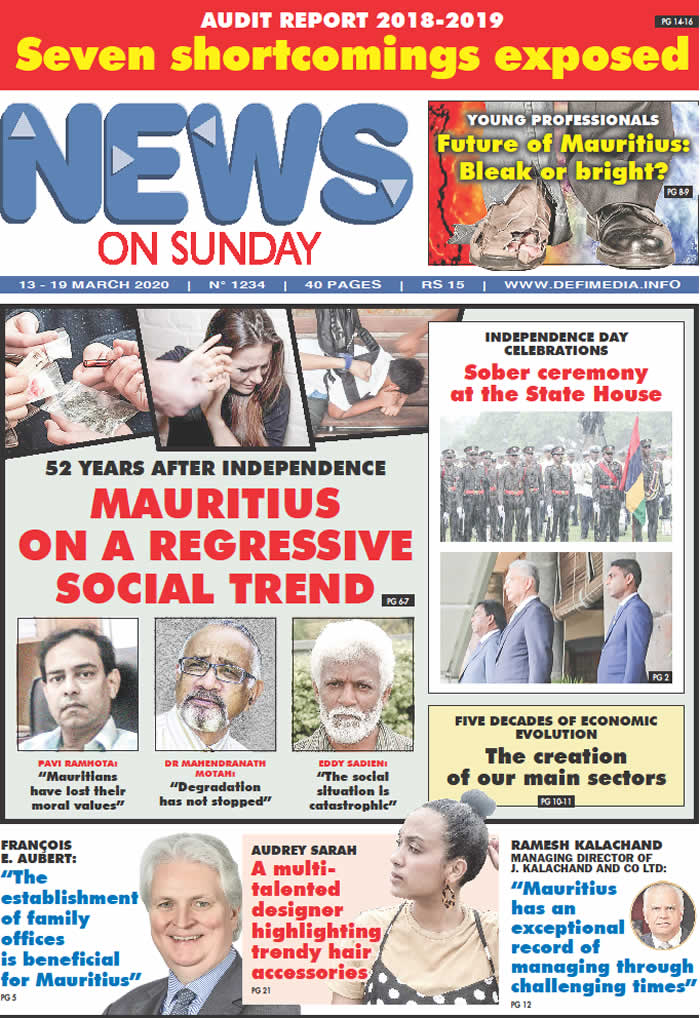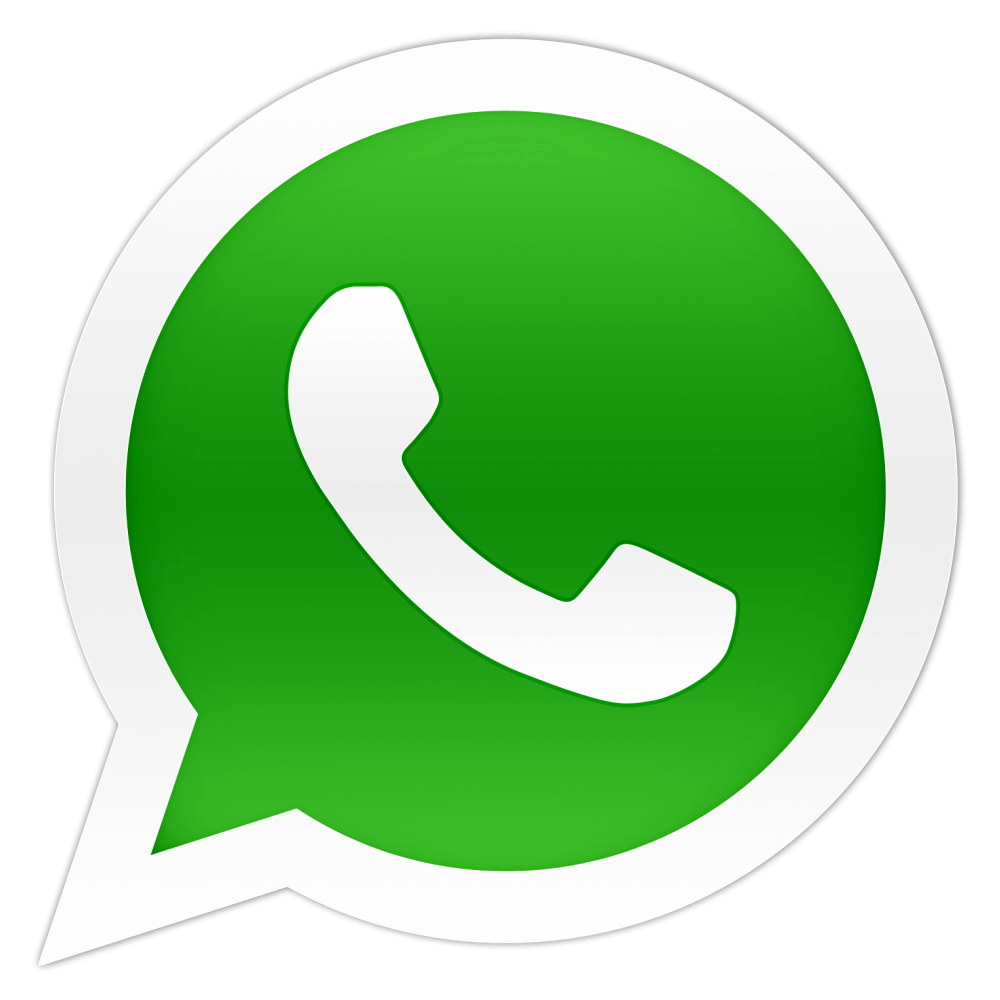 Notre service WhatsApp. Vous êtes témoins d`un événement d`actualité ou d`une scène insolite? Envoyez-nous vos photos ou vidéos sur le 5 259 82 00 !