A personal encounter, a day to remember!
It was only two days before her death 8 September 2002, in her official capacity as ruling Monarch we watched the Queen receiving the new British Prime Minister- Liz Truss at Balmoral Castle in Scotland. That was her last public engagement.
As we continue to mourn the death of Queen Elizabeth II here in the UK, there has been an outpouring of profound sadness up until her Majesty's final journey and resting place on Monday 19 September 2022 alongside her late husband, the Duke of Edinburgh, at the King George VI Memorial Chapel, part of St George's Chapel, in the grounds of Windsor Castle.
She was the world's longest British Monarch in history and to millions the only Monarch they would have known during their lifetime.
She touched the lives of millions of people all over the world. An amazing life dedicated to duty and service until the end.
During his sermon at Westminster Abbey, the Archbishop of Canterbury paid tribute and told the congregation that the outpouring of emotion for the Queen "arises from her abundant life and loving service, now gone from us".
He told mourners: "People of loving service are rare in any walk of life. Leaders of loving service are still rarer."
"But in all cases those who serve will be loved and remembered when those who cling to power and privileges are forgotten". Perhaps some words of wisdom to be imbibed by many of the so called world leaders nowadays.
"The grief of this day - felt not only by the late Queen's family but all round the nation, Commonwealth and world - arises from her abundant life and loving service, now gone from us.
"She was joyful, present to so many, touching a multitude of lives."
Visit to Mauritius
As a teenager growing up in Mauritius, I remember Her Majesty Queen Elizabeth II visiting the Island with her husband, Prince Philip, for three days (24–26 March) in 1972, as part of a tour of Asia and Africa. They arrived in the Capital- Port Louis on the royal yacht Britannia after visiting the Seychelles. She reigned as Queen and head of state from 1968 to 1992 when Mauritius became a Republic.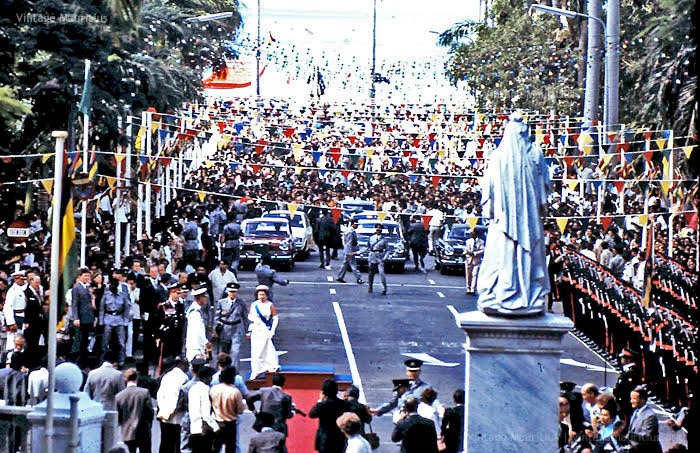 Port Louis- Place D'Armes - Her Majesty Queen Elizabeth II Visits Mauritius – (1972 Courtesy: Alasdair Ward)
---
It was a joyous occasion and there was great excitement in the air while she toured the island during her short visit.

The Queen's Jubilee celebrations- London England

In England, in the 1970s while pursuing my further education, I recall attending the Queen's Silver Jubilee celebration in 1977 (from June 6-7 to mark her 25 years since she ascended the throne) with my late father who was visiting at the time and my two sisters, eagerly watching the procession down The Mall to Buckingham Palace in the hope of catching a glimpse of the Queen. Thousands of people thronged The Mall and the surrounding streets to watch the procession. Soldiers paraded passing the crowd in procession, some on foot and some on horseback. All were dressed in full military regalia. The Royal Canadian Mounted Police were also part of the procession. It brought back memories of her times when she visited Mauritius.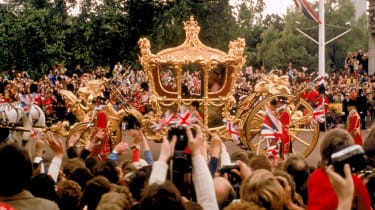 KEN GOFF (Getty Images)
---
The New Monarch

The Queen's passing away means that Prince Charles, the Queen's eldest son and heir to the throne is to become King Charles III. He was formally proclaimed the British sovereign in a ceremony steeped in history on 8 September. It was widely televised for the first time in history, across the world. The proceedings conducted by the Accession Council on Saturday 10th September at St James' Palace in London was a sombre affair. It formally marked the start of his reign as king.

A personal encounter with the Heir Apparent

It was at an event hosted by the Institute for Indian Art and Culture in London where Prince Charles and Camilla were invited as Chief Guests in 2005. My daughter, and son were taking music lessons at the Institute at the time. After the programme, both Prince Charles and Camilla met students from various musical disciplines. They also met other invited Guests and Indian business leaders over light refreshments. It was an honour to meet the prince and the experience was quite overwhelming and has stayed with me ever since. Now that he embarks on this demanding journey with Camila as Queen Consort, he has vowed to provide continuity as Monarch and King and to serve with "loyalty, respect and love" as the Queen had done for more than seven decades.

In his address delivered from Buckingham Palace he said, "Queen Elizabeth was a life well lived; a promise with destiny kept and she is mourned deeply in her passing". He went on to say, "that promise of lifelong service I renew to you all today".

The coronation of Charles III and his wife, Camilla, as King and Queen consort of the United Kingdom and the other Commonwealth realms has not been scheduled yet. As preparation for the ceremony takes time, it is believed that it will be several months before the coronation take place.

The Commonwealth and realms.

Following the death of the Queen, the office of the head of the Commonwealth now passes to King Charles III. He is the head of state of 15 member states, known as the Commonwealth realms, while 36 other members are republics, which Mauritius forms part of and 5 others have different monarchs.

Jhayraz Bhurtun
United Kingdom
September 2022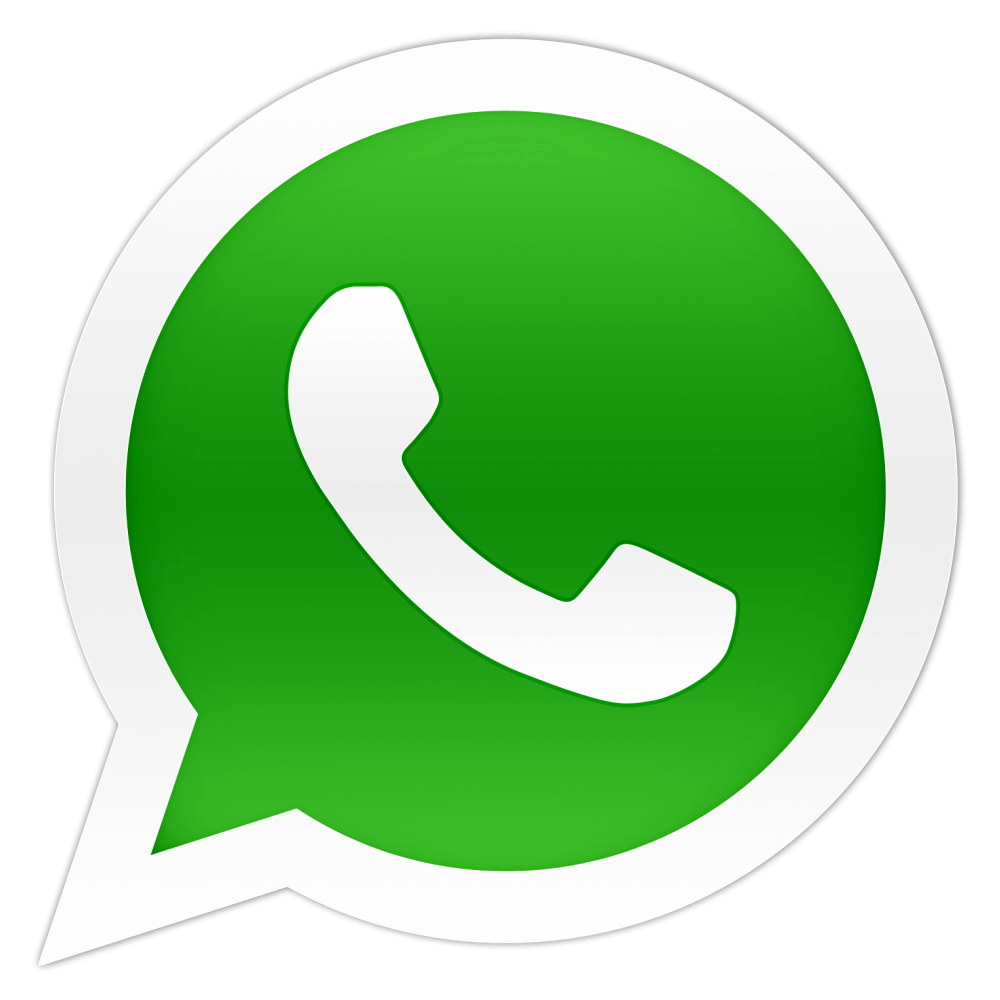 Notre service WhatsApp. Vous êtes témoins d`un événement d`actualité ou d`une scène insolite? Envoyez-nous vos photos ou vidéos sur le 5 259 82 00 !