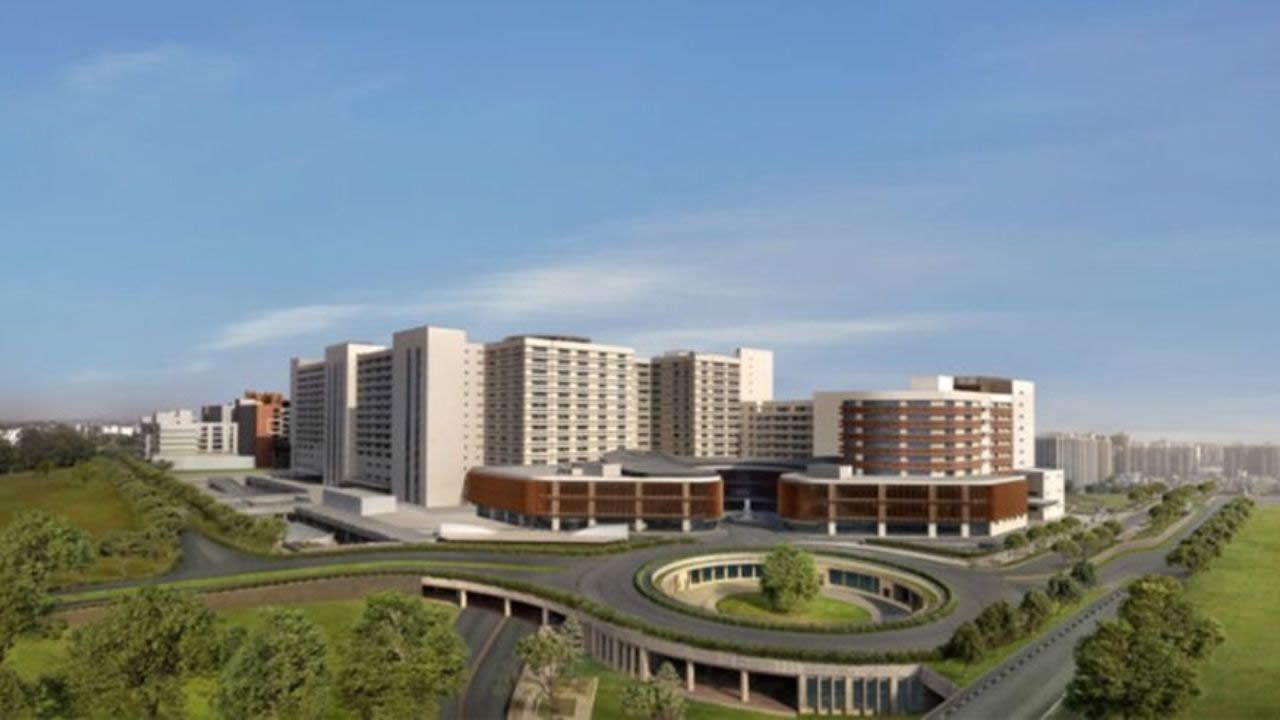 Credit : india.com
A giant step in medical care- The biggest private hospital in South Asia. People as far afield as the Americas, the UK, Europe, Africa including Mauritius can avail themselves of the latest healthcare technology and high-quality patient care this super speciality hospital offers.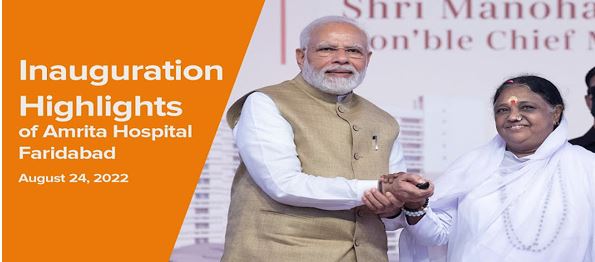 The inauguration of the biggest hospital in Asia took place in August 2022. His excellency The Prime Minister- Narendra Modi attended the inauguration. The occasion was widely reported on India's tabloid News Papers and on Social Media Platforms.
In a speech to guess the Prime Minister paid tribute to Amma* and said: "Amma is an embodiment of love and sacrifice. She is an inspiration to all." He also praised Amma for the work she is doing in improving the lives and conditions of the poor in society. He said that India is blessed and very fortunate; a country where healthcare and spirituality are closely linked. These combine with the huge advancement in science and technology will lead to great improvements in the healthcare sector.
.
The latest and most ambitious to date, this super speciality hospital in Faridabad is a project that has taken many years in the making. The state-of-the-art hospital is built by Mata Amritanandamayi Devi, fondly called Amma. A humanitarian well-known in India and over the world for her charitable work. Her global network of regional organisations and Embracing the World (ETW) exists to help alleviate the burden of the world's poor through helping to meet each of their five basic needs - food, shelter, healthcare, education, and livelihood - wherever and whenever possible and are especially focused on helping to meet these needs in the aftermath of major disasters.
It is reported that the 2,400-bed healthcare institution is India's largest private sector hospital and will become operational under the auspices of the Mata Amritanandamayi Math (MAM). Amma graced the occasion with her presence and marked a new chapter of compassionate and inclusive care by MAM.
The service and benefits that the hospital will bring to the community is immense and will go well beyond just providing access to the latest in healthcare technology and high-quality patient care. Amrita Hospital, Faridabad has a vision to deliver its services to a patient catchment area extending all over North and North-East India. From an economic viewpoint, the hospital will help to re-generate the area, bringing immediate support in terms of employment creating directly some 2,000 jobs for people and indirect staff opportunities for 2,000 more.
Once fully operational, it is envisaged the hospital will have around 10,000 staff and more than 800 doctors. According to Dr Sanjeev K Singh, Resident Medical Director of Amrita Hospital, Faridabad, the big focus and thrust will be in the field of cutting-edge medical research. "The hospital will have a dedicated research block spread across a seven-floor building that totals 300,000 sq. ft. with exclusive Grade A to D GMP labs. There will be a focus on identifying newer diagnostic markers, AI, ML, Bioinformatics etc. We are in the process of entering into research collaborations with some of the world's biggest names in medical science," he said. He also mentioned that "The comprehensive transplant program offered by the hospital will be among the biggest in the country". He added that the important innovative and pioneering work carried out at Amrita Hospital Kochi- India's first two double hand transplants and the country's first upper-arm double hand transplant, amongst several other procedures were ground-breaking achievements. The new facility in Faridabad will benefit from this Knowledge base and hope to be providing similar types of surgeries in the future.
It is also reported that the facility, which is spread over a vast area will have a total built-up area of 10 million sq. ft. with a 14-floor tower that will encompass the key medical facilities and patient areas. It will be home to 81 specialities and seven Centres of Excellence, including oncology, cardiac sciences, neurosciences, gastro-sciences, bone diseases & trauma, transplants, and mother & childcare. The hospital will also have India's largest facility to tackle infectious diseases. Training of medical students and doctors is another strong focus area. The hospital will have a state-of-the-art robotics, haptic, and surgical-medical simulation centre. Across four floors and 1.5 lakh sq. ft., it will be the biggest such learning and development facility for doctors in the country. The hospital will also host a medical college and India's biggest allied health sciences campus.
Amrita Hospital, Faridabad is a substantial addition to India's healthcare infrastructure. It is one of the country's largest green-building healthcare projects with a low carbon footprint, and it is an end-to-end paperless facility with zero waste discharge.
As part of its community initiatives, Amrita Hospitals has already started medical outreach programs at various residence welfare associations in and around Faridabad. These include awareness programs for the elderly with a focus on those suffering from neurological ailments, health talks for school children, general health check-ups, and many more. This large super-speciality healthcare facility is dedicated to the people of India for healing the sick, helping the needy, and advancing the cause of medical science it is reported. This is the second large-scale Amrita Hospital in India after the iconic 1,300-bed Amrita Hospital, Kochi was established 25 years ago.
Amrita Hospitals and the allied medical institutions of MAM have provided completely free treatment to 5.1 million patients and subsidized care to another 300,000 patients—a total of ₹764 crore in charitable medical care.
Amma is focused on alleviating the burden of the poor through helping to meet each of their five basic needs: food, shelter, healthcare, education, and livelihood. With that intention, Amrita Hospital, Faridabad will carry forward the legacy of Amrita Hospitals that began in 1998.
In terms of reach, Amrita Hospital will welcome patients from across India and around the world. It has a spacious helipad on the campus, which has been constructed for swift transport of patients, as well as a 498-room guest house where attendants who accompany the patients can stay.

"This will be truly a world-class institution, the like of which the country has not seen before, both in terms of magnitude of scale as well as medical excellence," said Dr. Sanjeev K Singh, Medical Director, Amrita Hospital, Faridabad.

Over the years people from Mauritius have travelled to India for medical treatments otherwise not available in the country and this super speciality hospital will no doubt help patients from not only Mauritius but also the African continent to avail themselves of the care and expertise that this medical institution provides.

*A Spiritual leader, humanitarian and visionary Sri Mata Amritanandamayi Devi (known to millions simply as 'Amma'), 
is a servant of the world community. Through her inspiring life of love, inner strength and self-sacrifice, 
Mata Amritanandamayi has inspired people all over the planet to strive to make more and more space in the hearts 
for others and to dedicate free time to social service. At the invitation of admirers from Africa (including Mauritius and the Reunion island), the Americas, Asia, Australia, Europe and elsewhere, 
Amma travels throughout the world, guiding people to emotional fulfilment as well as offering insights and solutions to 
global issues such as environmental pollution, mistreatment of women, and religious disharmony.

At the centre of Amma's life is her darshan: the tender, caring embrace that has been sought out by millions. 
It is in this intimate manner—a heartfelt hug—that Mata Amritanandamayi meets one and all, listens to their problems 
and gives them the inspiration and knowledge to uplift themselves and, ultimately, others.
Jhayraz Bhurtun
United Kingdom
October 2022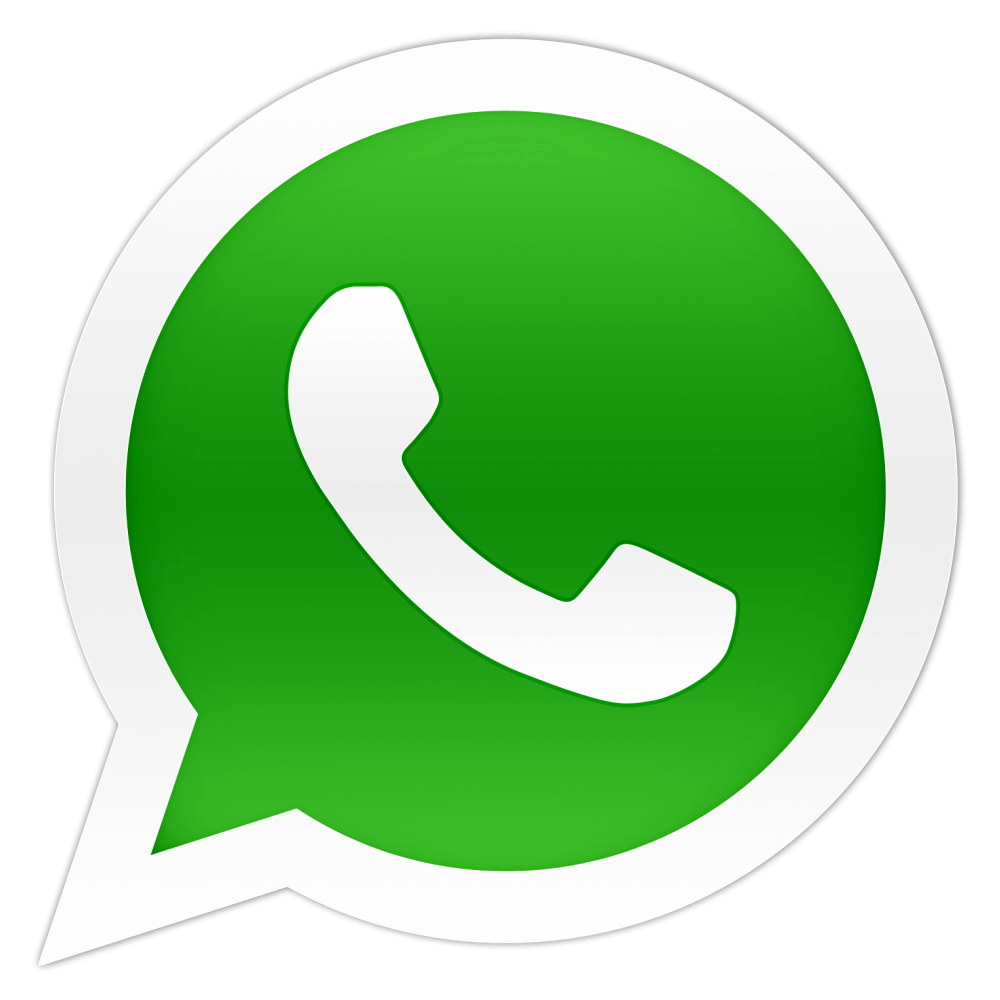 Notre service WhatsApp. Vous êtes témoins d`un événement d`actualité ou d`une scène insolite? Envoyez-nous vos photos ou vidéos sur le 5 259 82 00 !